Guest post by Brea Schmidt, @thethinkingbranch
"Look, Mom… a four-leaf clover!!" my daughter yelled.
She came running with the tiny green piece of nature laid out in her hand and her big brown eyes ready to pop through her pink-rimmed glasses.
Her 6- and 4-year-old siblings sprinted over to see what the commotion was.
"What is it?! What is it?!" they said, pushing through to get a closer look.
"It's a four-leaf clover, you guys!" she squealed in her 8-year-old innocence. "They're for good luck! They're hard to find!"
She skipped around and asked me for something in which to put it so she could preserve her special find.
"You're so lucky," her brother said as he followed right behind of his sister who gained sudden stardom with her find.
They skipped off to the patch where my daughter had made her discovery and began looking for more. I chuckled silently at their sweetness before feeling the pressure on my chest.
"You're so lucky."
My son's words were suddenly triggering my soul.
They were words that were familiar to me several years ago — as I was told them over, and over, and over again during a time when — on the surface — I "looked" pretty lucky.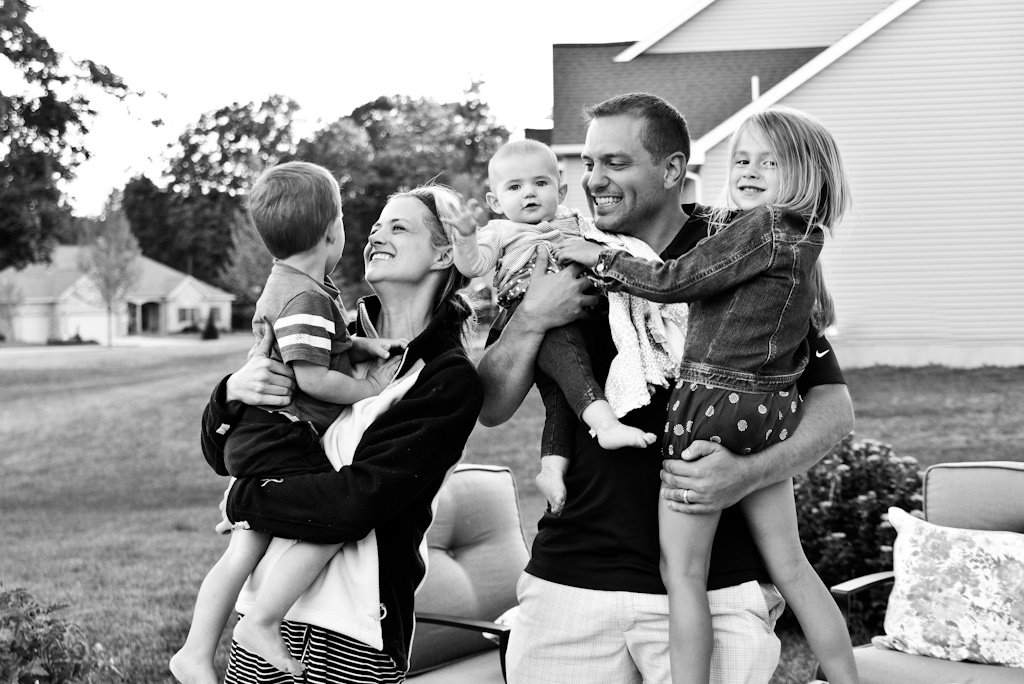 I was a mom to 4- and-2-year old kids and a brand new baby. All healthy. All gorgeous. All surrounded by family members who loved them and me.
"You're so lucky you have three, healthy, beautiful kids," I'd hear.
"You're so lucky to be home with them."
"You're so lucky to have a family who supports you."
"You're so lucky you lost the baby weight so fast."
"You're so lucky your husband is so supportive."
"You're so lucky you didn't have any complications."
"You're so lucky you get to be your own boss and make your schedule while you are at home."
They weren't wrong.
I felt all of their words — especially as I thought about dear friends around me who struggled to have babies at all. I knew that having three children born into a healthy environment made me… lucky.
It's why I experienced such overwhelming shame when I didn't FEEL lucky at all.
It's why I wondered if I was different because there were days I didn't love motherhood the way that every single other mother on social media seemed to.
It's why I wondered if I was not cut out for motherhood since I WANTED time away from my kids to recharge and rest — when every other person was telling me to cherish every second with them.
It's why I wondered if something was wrong with me that I felt sad, isolated, lonely and incapable — when I didn't hear anyone else talking about how they felt the same way.
It's why I wondered why I didn't love my thin postpartum body when everyone else seemed to be envious of it — when I felt like it was simply the shell carrying around this empty version of me.
So instead of telling the truth, I responded the way I thought I was supposed to with a smile and a kiss on my baby's forehead.
"Yes, I know I'm lucky. I'm so grateful for that."
I was convinced that if I just kept saying it, that maybe I would finally find myself in the pot of gold in which people seemed to think I was swimming.
I don't blame anyone for saying it. I know they were sharing their joy and happiness for me. But my experience with the phrase certainly makes me look for the "lucky" moms now.
The ones in my neighborhood.
On social media.
At the school functions.
The ones who might be shielding that shame like I used to.
And instead of telling them what they look like, or telling them how they "seem" — I ask them how they feel.
I share my own struggles so they know they're not alone.
I offer to help.
I give them a safe space to share about the unlucky feelings.
EVERY MOM deserves that space.
Because just like holding that four leaf clover doesn't mean my daughter will never experience hardship in the rest of her life, a mother holding a baby in her arms surrounded by people who are excited for her — doesn't make her immune from struggle.
Mamas, we ARE lucky. Those beautiful little souls are OURS.
But if you're feeling clouded and gray at the end of the rainbow others have painted for you — know there is no shame reaching out to someone who can help you find your way back to the joy.
Because lucky for us, there IS help.
Lucky for us, there ARE doctors and therapists who no longer want moms to be shamed for how they're feeling.
Seek them out.
We deserve to be seen for what we're enduring, and not told how we should be feeling.
Brea Schmidt is a mom and Iris Award-nominated writer empowering and connecting women and mothers. She started Photography by Brea, then launched The Thinking Branch where moms can connect on the real, raw moments of motherhood and feel less alone in their journey. Brea is a staff writer for Her View From Home and was named as one of five "Must-Follow Pittsburgh Influencers" in Pittsburgh Magazine.