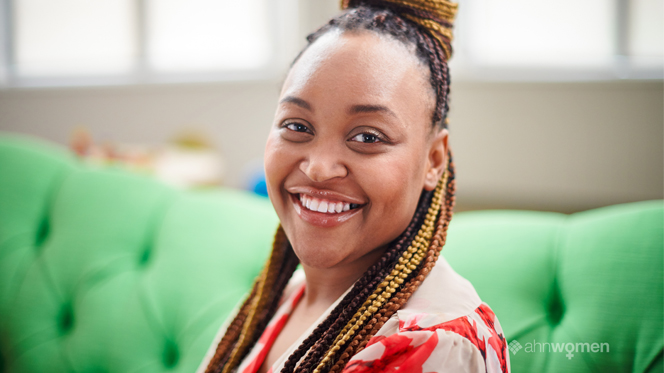 Rochelle expected her maternity leave with her third child to be much simpler than her time spent at home following the births of her first two babies.
Not long after her first baby was born, she and her partner separated. During her third pregnancy, she and her husband were both in school and working full-time jobs. But this time, even though she had two children, who are now eight and four, to care for in addition to a newborn, she had a full three months off from work, her husband's full-time job covered the bills, and she was settled in a comfortable house. But a few weeks after she brought the baby home, Rochelle realized things weren't right.
"I would just sit in the dark. And because I was breastfeeding, I would just make sure I had enough water. So I would get the water for the day, the Pampers, the wipes, but we just sat there. At first, I would try to hide it from my husband. I would turn on the light or the TV as he was coming in, but then I got tired of that."
She and her husband had vacations planned, and she wasn't looking forward to any of it. Her daughter was craving her attention, but coloring felt like too much. Her son's behavior started to suffer because she couldn't muster the energy to discipline. She got angry with her husband for little things, like leaving an empty bowl on his nightstand, and at times felt like she hated him.
When she took the baby to the pediatrician for his one-month appointment, the doctor walked Rochelle through a series of questions meant to screen new moms for postpartum depression. Rochelle, a social worker, knew how to answer the questions to make the doctor think everything was fine – but stopped herself at the last minute and answered honestly.
"I know how to beat the screen. So I was about to lie, but I didn't. I knew something was wrong, but growing up in African American communities, mental health is not addressed. You don't get help – you get it together. But I really needed help."
Rochelle's pediatrician referred her to AHN Women's Behavioral Health, and she started working with a therapist to address postpartum depression. But Rochelle grew skeptical, and eventually stopped going.
"He gave me some techniques I was learning in my master's program. Everything he was telling me I already was learning, so I thought I could do this on my own and quit paying my co-payment. I needed somebody who understood that I already know the clinical side of this but I can't treat myself."
Shortly after she stopped going, a nurse practitioner called to follow up and asked Rochelle some of the postpartum mental health screening questions again. She scored high, and admitted she needed to come back. This time, she was paired with a therapist who connected with her instantly.
"Rebekah is everything I needed. She is non-judgmental. I say some of the craziest things, and her eyebrow doesn't raise. She really was supportive."
At first, Rochelle refused medication. But when she started having suicidal thoughts, she called Rebekah immediately and came in to see her. Together they came up with a plan, and Rochelle started taking the medication. At first, she was so ashamed she didn't tell her husband, but eventually the pieces started to fall into place and today Rochelle feels like herself again.
Looking back, Rochelle thinks it's possible she experienced postpartum depression and anxiety with her first two children, but she had so much on her plate with the separation and moving, then full time school and work, that she had trouble identifying symptoms of postpartum mental health issues amidst the heavy stress of the time.
Rochelle says that as a social worker, she plans to pay more attention to signs of postpartum depression and anxiety in the moms she encounters at work. She says it's something that's capable of breaking up families, and she's grateful she got the help she needed to help herself and her family.
"If I'm not okay and if I'm not whole, I can't be a good mother, I can't be a good wife. That felt like failure. Now my daughter is always complimenting me. We built a game room in the basement together, and afterward she said, 'Mom, I missed you.'"