That is the question of my life! I get asked it at least once a day by all kinds of people. Friends and family have no qualms about asking, and neither do complete strangers. I must say, for the record, I don't really mind the question. I'm pretty much an open book, and so my response usually consists of a long-winded explanation of how I love having one kid, although maybe I'll have a second, although I'm not totally sure, and I kind of go on like that for a good seven minutes. I'm also guilty of asking this question. If I see a mom who looks about my age (37!) and only has one kid, I usually try to broach the subject.
I don't know why I'm so interested in this topic, but I'm fascinated with how other women feel about having kids later in life. I know everyone feels differently, but I personally love being an older mom.
Of course, my husband and I are exhausted all the time and will be the oldest parents at Henry's graduation, but there are SO MANY positives that outweigh the tiredness and those pesky forehead wrinkles. (I use retinol every night but those wrinkles won't seem to fade!)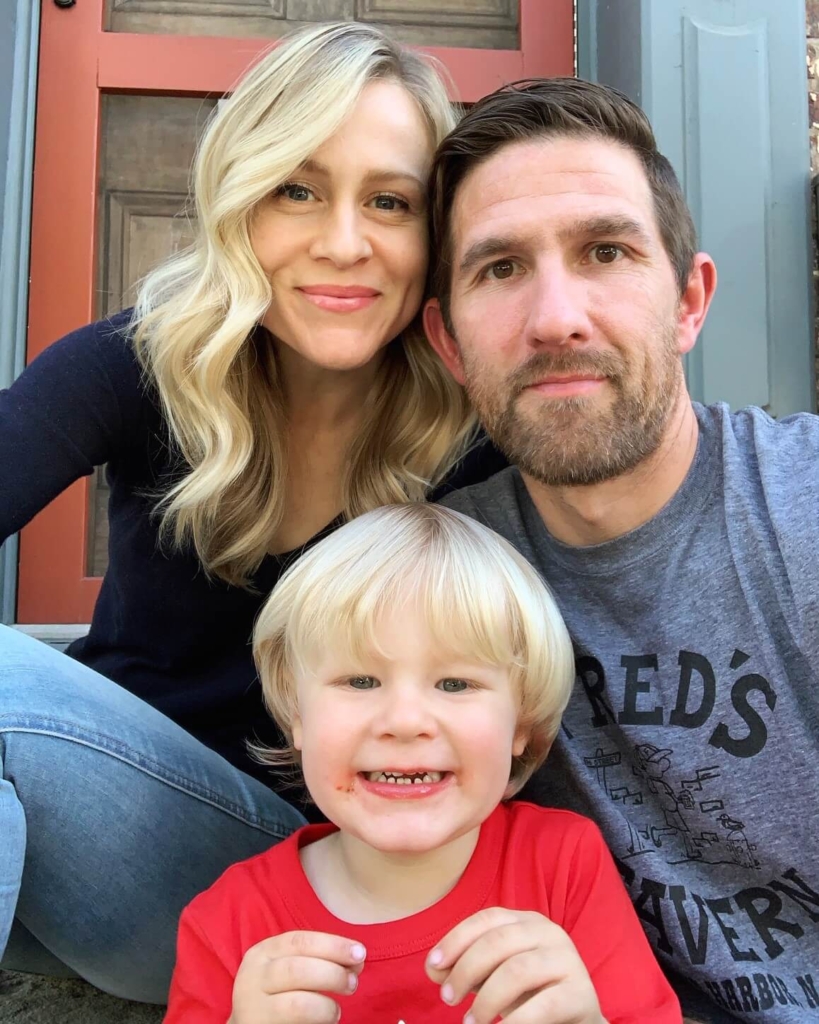 I feel very strongly that I would not be as PRESENT if I had my son in my 20s or early 30s. There are some things that only come with age. One of them is being mindful enough to be in the moment and recognize it for the gift it is. Another thing that comes with age … practicing gratitude in all things. I say out loud at least five times a day, "Oh, I'm so thankful Henry is so healthy" or "He is such a sweet boy … life is good!" I know FOR CERTAIN that I did not have that attitude at 25 or 30. Only in the last few years have I realized what it means to be mindful and present and to celebrate health and happiness as life's real gifts!
An unspoken truth of women like me is that we actually LOVE having one kid. I don't know if it's societal pressure or the stigma of "being an only child," but I think older moms are hesitant to voice how much we like our families of three. My husband and I can still tag team with Henry, if I'm exhausted he can jump in and vice versa. We also can focus all our attention on Henry and not be pulled in other directions.
That being said, and I know some of you will hate me for this, I do think I will try for another baby in a few years. At that point, who knows if my body will work at 40 or 41? This is something I hear from my followers ALL THE TIME — moms in their 40s who are desperately trying to have their second baby and it's not working, moms who are going through really intense fertility treatments and feel like their whole life is out of whack, and moms who want a second baby but if it doesn't happen they're OK with it. One of the questions we ask ourselves is "how much information do we owe others about our plans, fears, and struggles?" How much we're willing to share is a personal decision, and it should stay that way. What I really love seeing is more and more women opening up about their fears/plans/struggles in the social media space and finding compassion, sisterhood, and support!
I really want to end by sharing what some of my followers had to say about these issues. My favorite stories and responses are below.
"I feel constantly judged for only having one. Little do some know that I did try for a second … and I gave up when it didn't happen after a year of trying. My daughter was playing dolls in her room the other day and I had to choke back tears because her being an only child gives me such guilt sometimes."
"Motherhood is a hard road sometimes. I had postpartum depression, took over a year to even remotely recover, then tried for a second (terrified of getting PPD again) and dealt with infertility and now the guilt of my daughter being an only. People don't always understand the hurt."
"My husband and I will be older parents in 2020, but we talk about only wanting one kid because while being a mom is something I've always wanted, we love our life together. The pressure already without any kids to have multiple is exhausting."
"I still don't know how my parents raised three kids on a single family income! Let alone working couples these days paying for child care, etc…"
"I don't have kids. And I'm scared to have kids at this age. I'm almost 39."
"My first will be here in a couple weeks. So many feelings … having my first while others on number three and four. How long will my son have his grandparents or parents? It's the new reality for so many."
I want to thank all these moms for sharing their stories! I don't think anyone has the right or best answer when it comes to when you should have kids and how many, but it's important for all voices to be heard in this conversation and for us to keep talking!
Courtney is a born-and-raised Pittsburgher who became an Emmy-award winning journalist that galvanized a huge online community around issues of #MomLife, family, lifestyle, and home. Authenticity and JOY are the two main components of the community Courtney has built. Follow her on Instagram at @itscourtneybrennan for all the REALNESS.